On June 13th 2008 the Ashram inaugurated the Orphan Residential Primary School. Children around 6 years of age were admitted. The school and dormitory buildings were constructed on a new piece of land about four kilometers from the main Ashram compound in a village named Avulatippayyapalli.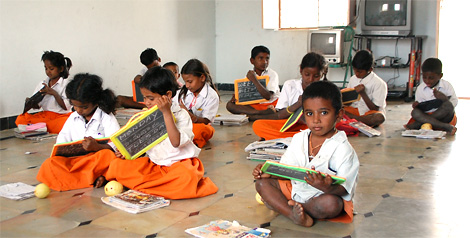 All children are at the school voluntarily, usually admitted by their legal guardians or family members. Some are orphans, some are semi-orphans. All come from very poor and helpless conditions. During school holidays the children's relatives take them to their homes.
The Orphan Residential Upper Primary School project is based on individual sponsorship of each child. Every child has a sponsor. The contribution covers all expenses connected with the child's education and welfare. Including clothes, shoes, writing utensils, notebooks, textbooks, soap, hair oil, tooth powder, laundry soap, bedsheets, medicine, first aid supplies, tailoring expenses, meals and eatables.
Every school year new children are admitted and the number of students increases continuously. At the beginning of 2014 there were over sixty children staying and studying.
The school has been officially registered and recognized from first to seventh class and the students are able to apply to other schools for higher education.
Care is taken to provide high quality education, including computer and music classes using contemporary teaching materials (including a DVD projector). The aim is to instill good discipline, moral values and goodness in the children while making sure all of them are happy and feel safe.